Aluflam AF70 shop fronts are high performance, thermally broken narrow aluminium frames with its cavity filled with patented fire retardant cooling core. Incorporating extensively tested fire resistant glazing, the AF70 system can be used internally or externally in either 30 or 60 minute fire ratings.
Aluflam glass structures are extensively tested in Australia and throughout the world to the highest standards for fire resistance.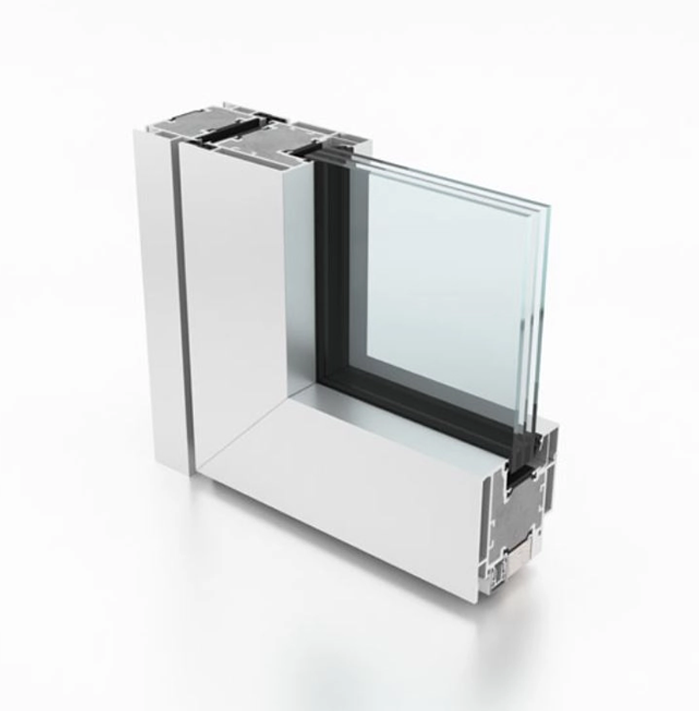 Benefits
Clean, sharp lines of narrow stile aluminium
Large glass areas
Easily integrate AF70 single or double doors
Can be install in masonry or plasterboard fire wall
Simple installation
High impact resistance
Energy efficient
Interior and exterior installation
Fire rating up to -/60/60
Manufactured in Australia
Framing
The revolutionary aluminium framing is a thermally broken 61.5x70mm high quality extruded profile that is filled with a patented insulating compound.
All gaps and edges are sealed with high temperature gaskets for fire, smoke and weather protection.
| Fire rating | Not rated | -/60/30 | -/60/30 | -/60/60 |
| --- | --- | --- | --- | --- |
| Application | N/A | Internal | External | Internal |
| Glass | Any single or IGU | Contraflam Lite 60 | Contraflam Lite 60 ClimaPlus | FireBlock 60 Structure |
| Glass thickness | 6 – 38mm | 14mm | 32mm | 35mm |
| Max overall size (w x h) | Unlimited x 6,500mm | Unlimited x 3,000mm | Unlimited x 3,000mm | Unlimited x 3,000mm |
| Max glass pane size (w x h) | 2,000 x 34000mm | 1,200 x 2,500mm | 1,200 x 2,500mm | 900 x 3,000mm |
| Sound reduction Rw | – | 38 (-1, -2) dB | 38 (-2, -5) dB | 43 (-2, -3) dB |
| Light transmission | – | 88% | 66% | 83.6% |
| U value W/m³K | – | 5.0 | 1.5 | 4.1 |
| Glass weight | – | 31.0 kg/m² | 46.0 kg/m² | 61.0 kg/m² |
| Butt joint glazing option | Yes | – | – | Yes |
A grade safety glass to AS1288 is used in all Aluflam glass structures. Two or more layers of specially toughened safety glass is laminated with intumescent gel that provides thermal protection.
For exterior installations a double glazed unit with 6mm toughed low-E glass is used to provide higher comfort levels and also protection of the intumecent gels from elevated temperatures.
Refer to our Glass page for details.
Aluflam can supply a number of factory applied finishes including.
Anodising
Polyester power coating Refer to our Metal Finishes datasheet for details.
The Aluflam AF70 Shop Front framing systems can be framed in modular sections up to a maximum of 6m wide x 6m high. It is recommended to limit each frame construction to 3m wide x 3m high for ease of shipping, handling and installation.
Transoms can be incorporated into the frame to reduce the glass pane size.
Each frame system can be connected to itself to construct a larger wall construction.
AF70 single and double doors integrate perfectly into the AF70 Shop Front.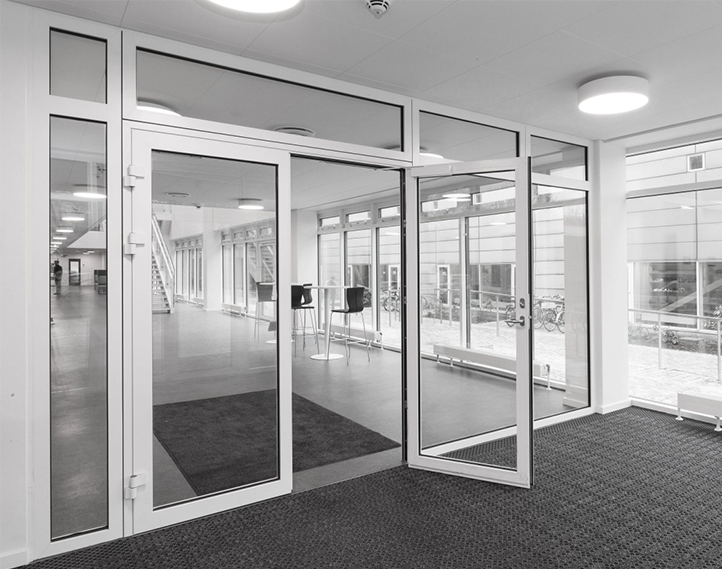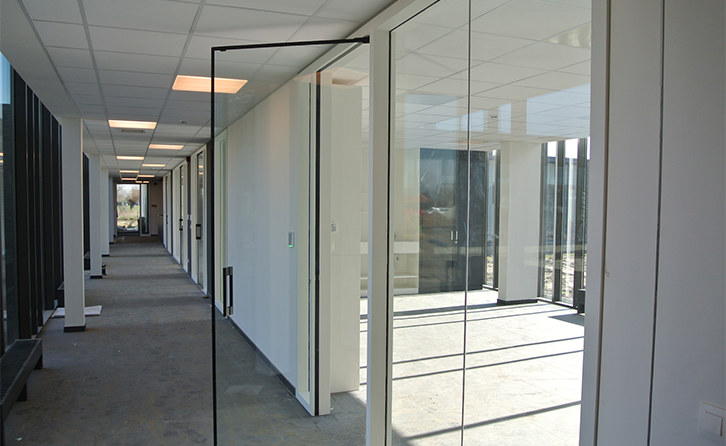 For a seemless glass look, fire rated glass can be installed without mullions up to 60 minute fire rating. The vertical glass joint is sealed with black fire rated silicone.
When installing in a masonry wall the opening needs to be 20-30mm wider and 20-30mm higher than the AF70 frame.
The gap between the AF70 frame and the masonry wall is to be fire stopped with mineral wool (100kg/m³) and silicone sealant.
As a fire door it must be inspected annually in accordance with AS1851 by a competent person checking the operation, tolerances, integrity of the glass and seals. Full details are in the standard.
We provide high quality Australian made fire rated glass shop fronts which utilises our exclusive aluminium framing.